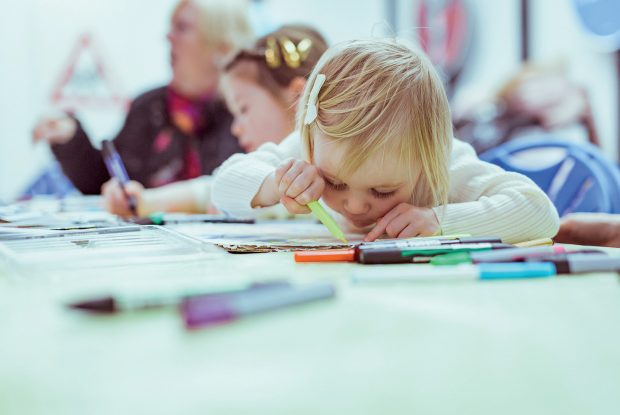 Image: © Chris Pepper
WEDNESDAY 19 & 26 JUNE, 10:30 – 12:00
Bring your little ones along to this relaxed session for children aged 0-5. These sessions will be a combination of costume, performance and colour, taking inspiration from Athena Papadopoulos's exhibition.
Using the exhibition Tittle-Tattle-Tell-A-Tale-Heart as inspiration, little ones can create multi-textured wearable textiles, accessories and objects for children to play with and wear in the sessions led by artist Rachel Elm. These bite-size outfits will be made up of a mixture of recycled and natural materials and dyes.
---
WEDNESDAY 31 JULY, 10:30 – 12:00
WEDNESDAY 14 & 28 AUGUST, 10:30 – 12:00
WEDNESDAY 11 & 25 SEPTEMBER, 10:30 – 12:00
Get together with other parents and bring your little ones to these playful creative sessions that stimulate sensory development. Artist Rachel Elm will be leading the sessions and sharing an aromatic playdough recipe that parents and children can take away.
Tickets are £3 per child. Please book under the child's name who will be attending. Children must be accompanied by a responsible adult.
Book your tickets via Eventbrite, HERE.