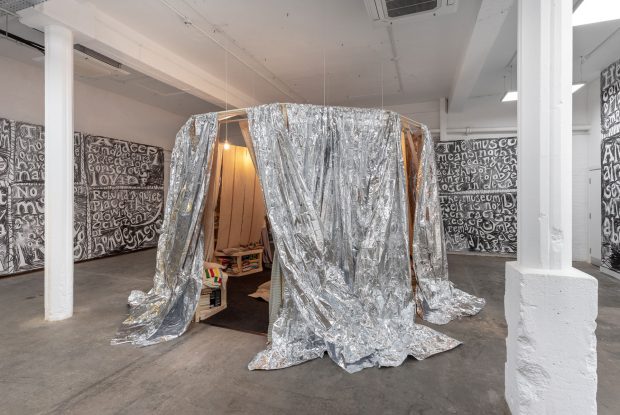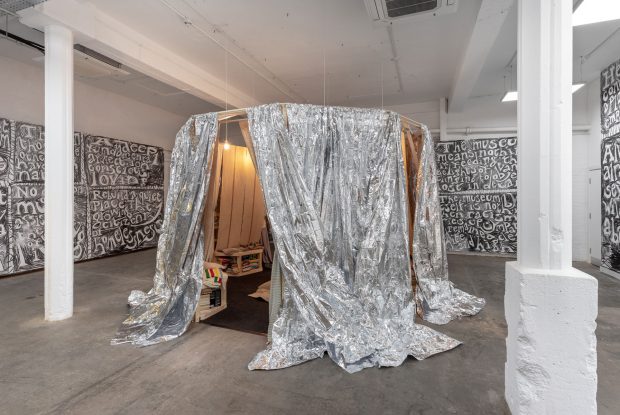 Image: Installation View. Jade Montserrat, Instituting Care. Courtesy of Humber Street Gallery and the artist, 2019. Photo by Jules Lister.
This installation of work by Scarborough-based artist Jade Montserrat, consists of large-scale charcoal drawings made directly on the walls of the gallery. The drawings offer fragmented reflections of the artists experience navigating her way through education, working as an artist and living in the UK. Amongst the drawings sits a structure that will be host to a series of events relating to care and education.
Instituting Care was developed in 2018 whilst Montserrat worked as the artist in residence at Bluecoat, Liverpool's Centre for the Contemporary Arts. Whilst in residence, Montserrat met local artists, educators and activists in Liverpool, some of whom will be facilitating related events during the exhibition.
The Artist
Jade Montserrat graduated from the Courtauld Institute of Art in 2003 and Norwich University of the Arts in 2010. She now lives and works in Scarborough, North Yorkshire and is the Stuart Hall Foundation practice-based PhD candidate at The Institute for Black Atlantic Research, The University of Central Lancashire (2017–).
Related events
Glossary Review
Sat 10 August
1-4pm
YES, BODIES
Sun 4 August
2-4pm