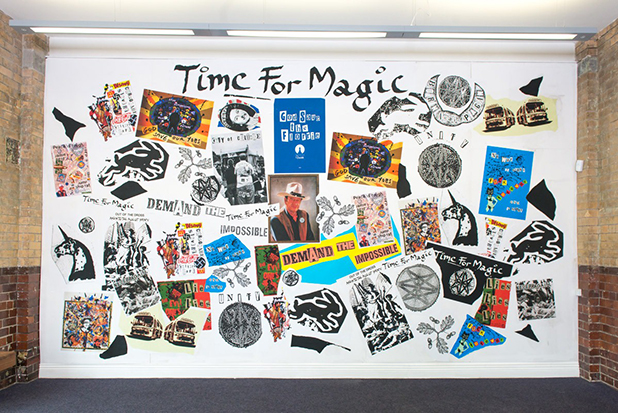 Jamie Reid's wall collages are seemingly random but carefully balanced barrages of visual images and ideas, created in situ from a pre-ordained pile of visual 2D materials. These are foraged from Reid's 45-year career as one of the most innovative, thrilling and inspiring artists of our time or any other.
World-renowned for his visual manifestations of the very essence of punk with his work with the Sex Pistols, Reid had already spent some years at the agit-prop edge having left Croydon College (where he met and conspired with co-student Malcolm McLaren) to found Suburban Press. The following Pistols years are the stuff of legend.
Thereafter Jamie produced visuals and installations for bands, protest movements, community actions and even for himself. Exhibitions of his artwork have taken place worldwide, often on the fringes, where he likes to stand. Ragged Kingdom is site-specific, nominally unplanned, exciting and done with flintlocks cocked and an eye on the exit.
ARTWORK: © JAMIE REID