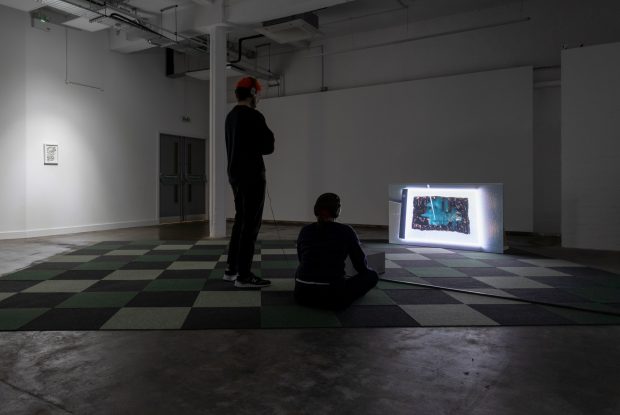 Image: Installation view. Lucy Clout, ZZZ. Courtesy of Humber Street Gallery and the artist, 2020. Photo by Jules Lister.
Lucy Clout is a London based artist whose work uses video and sculpture to examine loneliness, intimacy and visibility.
The exhibition at Humber Street Gallery, titled ZZZ is described by the artist as a 'nocturnal work'. Within the video we hear a tired voice-over reading across her incomplete notes during the night. The voice-over moves back and forth between lucid and opaque speech, blending description, anecdote and fact into a looping disorientated monologue.
Language is just one material within the work, no more significant than the ceramics in the video or the carpet beneath it: the spoken word is not proposed as any more articulate than those objects either. Language is under stress in ZZZ. The title sets up the feeling of the exhibition but is also used as a filler phrase by the voice-over to highlight places in her notes or memory that she needs to go back to.
The installed carpet titled 'Night-Vision Disco Break-Room' is an attempt to dislocate the gallery space. The artist describes the work as not an argument or a puzzle but a set of ideas and tones that are offered to the audience.
About the artist
Lucy Clout is a London based artist whose videos use technology and pop culture to examine loneliness, intimacy and kinship. The works produce and reproduce minor (disposable or insignificant) speech to examine embodiment, longing and historically gendered performance. Recent projects include forthcoming new work for flatness.eu (2019). In 2015 she was awarded the Jerwood/Film and Video Umbrella award. Recent exhibitions include Solvent Magazine, The Gymnasium, Berwick as part of Berwick Film & Media Arts Festival (2018), Jerwood Space, London, CCA, Glasgow (2015) and Limoncello, London (2016). Recent screenings include Raven Row, Tate Britain and Anthology Film Archives, New York (all 2017)