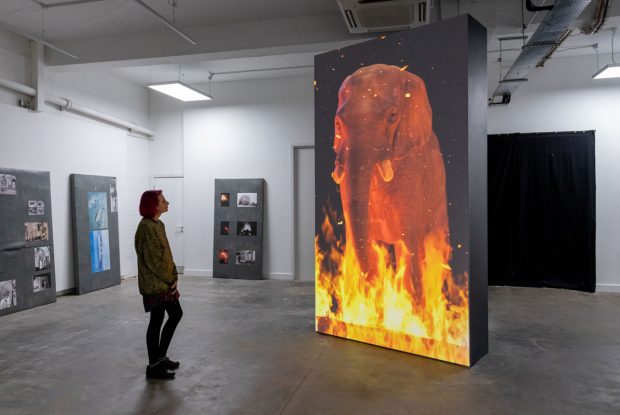 Image: Installation view, 2019. Ollie Dook, Proboscidea Rappings. Courtesy of Humber Street Gallery and the artist, 2019. Photo by Jules Lister.
Jumbo the Elephant was one of the first modern day animal celebrities. Born in 1861 Jumbo tragically died in 1885 after a fatal collision with a train. The impact of his brief time on this planet was felt on a global scale.  
Artist Ollie Dook examines the story of an archived photograph which depicts an imitation 'Jumbo' crossing Hull's Monument Bridge in the 19th Century as part of Barnum's circus parade.  
Through an exhibition that combines video and sculpture, Dook offers up a new version of Jumbo, exploring the enormity of his physicality, popularity and impact on the world. 
Hey Art, What's Good? Podcast
"This exhibition was super interesting and v surreal, about the life and times of circus elephant Jumbo, who's name we can attribute to being synonymous with 'large'."
Listen here
About the artist
Ollie Dook (b.1993, Brighton and Hove, UK) received his MA from the Royal College of Art in London in 2017 specialising in sculpture and moving image. 
Related Events
Exhibition preview
18 December, 6-8pm
FREE, no booking required
Curator's Tour: Proboscidea Rappings
21 December, 1-2pm
FREE, booking required
BOOK HERE