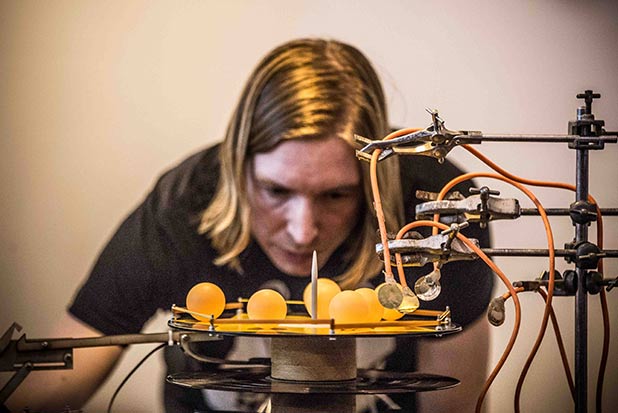 From 24-26 March 2017 arts festival ReROOTed took over Humber Street Gallery.
Integrating past and present live and media arts practices, the festival reflected on the legacy of the former commissioning agency, Hull Time Based Arts (HTBA), and ten years of the Running Out Of Time (ROOT) Festival.
ReROOTed inspired an array of artist-led interventions, performances, installations and conversations. The guerrilla take-over offered an ambitious programme, recognising the legacy of HTBA within a pivotal year of cultural activity in Hull. Featuring new and existing work by more than 25 international artists, ReROOTed was a celebration, not only of the past but of the present questioning our relationships, our capacity for change and the possibilities that sprout as we re-root, transplant and grow.
It included many new commissions; a video performance by Anne Bean (of the original Bow Gamelan with Paul Burwell and Richard Wilson) who performed Drums Along the Humber on the Marina in 1987; Alastair MacLennan with a new durational performance work; and HTBA founding members Joanna Millett and Rob Gawthrop making a 3D film projection event celebrating Europe.
Nina Edge, Vicki Bennett (People Like Us), Ronald Fraser-Munro and Ann Whitehurst also re-visited, bringing fun and political intervention. Irreverent performance artists Gillian Dyson, Simon Poulter, and FK Alexander stirred things up. Drystone waller, Dave Lynch blockaded Humber Street with redundant electronic equipment and Filippos Tsitopoulos created masks and costumes made from fruit on the site of the original fruit market.
In-keeping with ROOT Festival's international heritage Alexandre Burton from Montreal created uncanny installation performance with Tesla Coils.
Original Ferens Live Art Officer Mark Waddell placed obtuse haiku into the public realm along with poetry, whilst Graham Dunning made Mechanical Techno through workshop, performed in a DJ night also including Bioni Samp.
A workshop and debate programme, 'round tables' also took place over the weekend.
Artists and participants included:
Alastair MacLennan
Alexandre Burton
Ann Whitehurst
Anne Bean
Dr Beatriz Garcia
Bioni Samp
Dani Abulhawa
Dave Lynch
Fran Cottell
FK Alexander
Filippos Tsitopoulos
Gillian Dyson
Graham Dunning
Ground Collective
Helen Kaplinsky
Hollington & Kyrprianou
Julie Bacon
Karen Christopher
LADA (Live Art Development Agency)
Marcel Craven (Ground)
Mark Waddell
Mark Titchner
Nina Edge
People Like Us
Rob Gawthrop
Joanna Millet
Roddy Hunter
Ronald Fraser-Munro
Ruth Levene
Simon Poulter
Third Angel
Tom Cassani
ReROOTed was brought to you in collaboration with Hull Time Based Arts (HTBA) and FACT (Foundation for Art and Creative Technology). With thanks to Arts Council England, YVAN, University of South Wales, Leeds Beckett University and Studio Eleven.
Download the full ReROOTed festival programme.