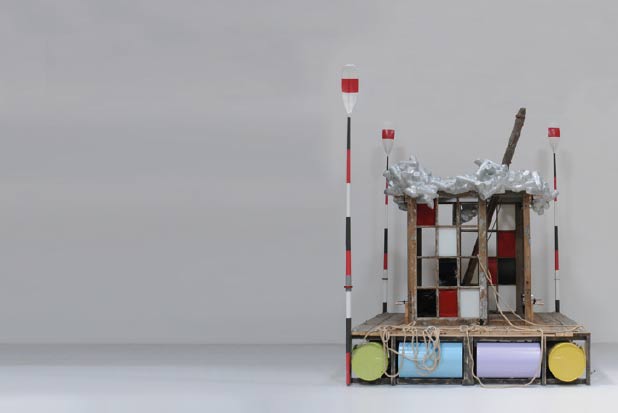 Lucy + Jorge Orta
Raft of the Medusa takes its historical reference point from the romantic depiction of the shipwreck Le Radeau de la Méduse by Théodore Géricault (1819-1819, Musée du Louvre, Paris). The make-shift raft constructed by the crew of the Medusa from wood salvaged from their sinking vessel recounts more than the treacherous voyage of the doomed sailors on board, it reminds us of the fateful journeys of slaves and migrants throughout history.
Even more so today, we all play witness to the perilous journeys of the thousands of refugees navigating the oceans in search of a safe haven. A raft, the symbol of man's fragility, helplessness and hope.
Raft of the Medusa is floating on an ocean of life buoys, debris from the Japanese Tsunami that has been aimlessly drifting on sea currents ever since. Time has eroded their colour and marine life has reclaimed them, until they were washed onto the shores of Alaska four years later. This multi-sensory installation includes the pungent smell of decaying rubber, seaweed, wooden planks and oil drums.
Please note: Raft of the Medusa will open until 8pm every Thursday.
Photo: © Lucy + Jorge Orta