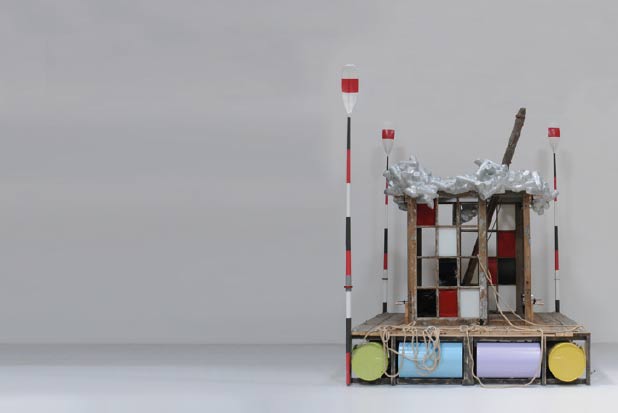 Raft of the Medusa, a striking, multi-sensory installation from artists Lucy + Jorge Orta will today open to the public in Humber Street Gallery, symbolising the perilous journeys of thousands of refugees navigating the oceans in search of a safe haven.
The piece takes historical references from Théodore Géricault's Le Radeau de la Méduse (1818-1819, Musée du Louvre, Paris), which depicts a makeshift raft constructed by the crew of the shipwrecked Méduse in 1816 in a desperate attempt to survive. Only 13 of 147 passengers returned from the doomed trip, fending off starvation and dehydration, in a tragedy that became an international scandal.
Raft of the Medusa floats on an ocean of life buoys, using debris from the Japanese Tsunami that has been aimlessly drifting on sea currents ever since. Time has eroded their colour and marine life had reclaimed them, until they washed onto the shores of Alaska four years later. This installation includes the pungent smell of decaying rubber, seaweed, wooden planks and oil drums.
The piece invites us to remember the migrant lives lost at sea today and throughout history, whilst also considering the many lives that are transformed at sea. A single raft may be a symbol of our fragility, but it is also a symbol of hope and courage.
Having exhibited their socially-conscious works around the world, London and Paris-based artists Lucy + Jorge Orta are particularly excited to showcase Raft of the Medusa in Hull as part of Hull 2017's Roots & Routes season.
Lucy Orta comments: "Exhibiting Raft of the Medusa in Hull is incredibly timely. The city's history unfolds through its relationship to the sea and at this moment, thanks to the dynamic cultural transformation, there is a sense that the city is embarking on a new journey."
"We learn about the fateful voyage of the Raft of the Medusa through the painting by Gericault (1818-19), and our installation and forthcoming performance remind us of lives that are lost at sea, but also those that are saved. It brings a new perspective and conveys a sense of hope."
Raft of the Medusa is exhibited in Gallery One of Humber Street Gallery from Wednesday 5 April to Saturday 17 June 2017. The space is open from 10am-6pm daily.