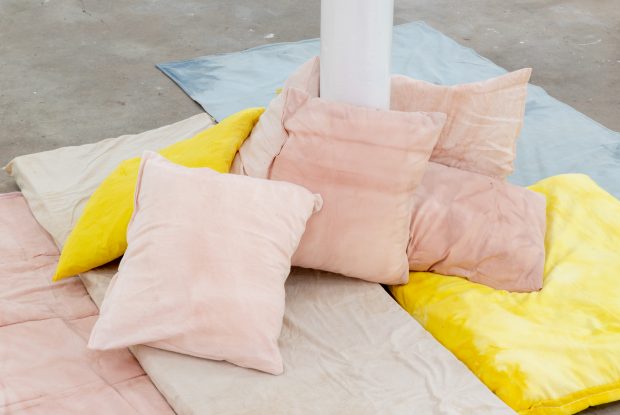 It's safe to say Frances Disley's exhibition The Cucumber Fell in the Sand has made us rethink our relationship with food and how society can be more responsible with food waste.
As part of the exhibition, Disley transformed Gallery 1 into a relaxing space covered with pastel-coloured cushions and soft furnishings, ideal for rest and reflection. The cushions were coloured using natural dyes created by the artist at home on her kitchen hob. The pink cushions were created using avocado pits, yellow from turmeric, blue from black beans and brown from nettles.
We've put together a simple recipe so you can recreate Disley's yellow cushions at home whilst reducing your food waste in the process.
What you'll need…
– Large pot filled with water
– Pillowcase & cushion (or other fabric)
– 250ml white vinegar or mordant
– Tongs
– 3 tbsp turmeric powder
– Large bowl filled with water
– Hob
Recipe
1. Soak the pillowcase in a large bowl filled with water for a few minutes.
2. Fill a pan with water and add the turmeric (adding more turmeric will create a deeper colour). Then pour in the vinegar or mordant
3. Bring to boil, this will help the dye bond with the pillowcase
4. Add the pillowcase and boil until it reaches your desired colour.
5. Carefully remove the pillowcase from the pan and rinse thoroughly with cold water.
6. Leave the pillowcase to dry & cover your cushion with your pillowcase
7. You're done! Sit back, relax and enjoy your new cushion!
We'd love to see your creation, tag us in your pictures or stop by and visit The Cucumber Fell in the Sand.
FRANCES DISLEY: THE CUCUMBER FELL IN THE SAND
13 July – 29 September, 10-6pm
FREE, no booking required
Find out more here