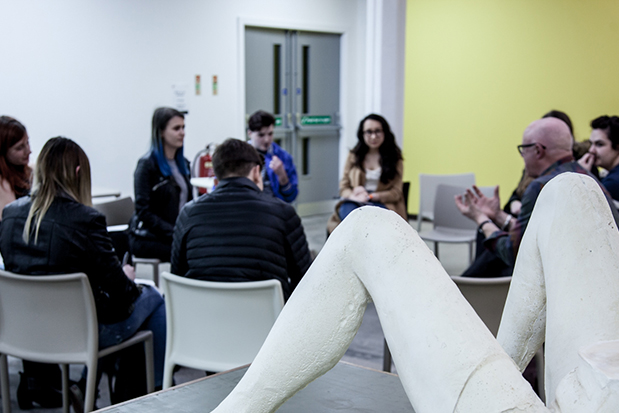 Have you ever seen a piece of art that made you feel something, whether that be amazement, disgust or confusion? Ever wondered what a painting really meant?
Moved by Art is on the lookout for people aged 16-24 to explore and respond to art in new and challenging ways, and you could be the perfect fit. The sessions at Humber Street Gallery are asking you to look around and respond to art, getting creative in the process. The sessions allow you to have your voice heard, all while gaining experience creating art.
To learn a bit more about what people have got up to in the sessions so far (and what's still to come) we caught up with artist David Cleary ahead of the next session.
David will be running the session alongside resident poet, James Nash. The session is inspired by photographer Lee Price's moving exhibition The House of Kings and Queens.
We talked about the workshops, why art is important and what you can get out of this brilliant opportunity.
What is Moved by Art?
Moved by Art is a project that has been operating throughout Yorkshire, that's inspired by incredible art exhibitions. In Hull, we connect practicing artists to young people who may not regularly engage in the arts to produce personalised responses to our exhibitions at Humber Street Gallery. We want different groups to experience each exhibition so that we can gather a range of perspectives and responses.
What can people expect from Moved by Art: LGBT50? What kind of ideas will you be exploring?
The House of Kings and Queens explores the daily lives of LGBTQ+ people living in a house owned by a young transgender woman. On the streets of Sierra Leone homosexuality remains illegal, so the house is a sanctuary for their community, a place where they can be themselves. This workshop will ask the group to examine the political and social aspects of living as a gay person in the world today and how this changes depending on where you are born. It focusses on what work still needs to be done in this country and abroad. We'll also look at how the exhibition has been curated. This includes how the exhibition space and the ways the work is presented relate to the subjects in the photographs.
What are the practical aspects of the upcoming workshop?
In this workshop, I will be running a drawing and collage workshop using colours from the rainbow flag. I want people to explore their creativity and draw from the unapologetic attitude and fierceness of the incredible figures in Lee Price's images. G.F Smith have donated Colorplan paper so that we can incorporate the rainbow flag's colours and the traditional and personal meanings into our work. Of course, the group doesn't have to use every colour in the rainbow, just the ones that mean something to them.
What themes and ideas have you explored in previous workshops? What kind of work has been produced as result of this?
The first workshop took place during Sarah Lucas' Power in Woman exhibition. We asked the group to look and respond to the sexual and voyeuristic themes of the exhibition through powerful spoken word and autobiographical poetry. In Somewhere Becoming Sea we looked at environmental themes as well as the treacherous journey migrants must make to survive. This was inspired mainly by Nikolaj Bendix Skyum Larsen's video work titled Quicksand which became the focus of an activity with composer Hayley Youell who worked with the group to create a sound piece. This composition was incorporated into an improvised dance piece performed by Tamar Draper and Lottie Hanson during the WORM Festival weekend takeover at the gallery in June.
What's poet James Nash's involvement with the upcoming workshop?
James is our resident artist for the entire programme set up at Humber Street Gallery. His years of writing and teaching experience allow him to really connect with the young people and help them articulate their thoughts and emotions in response to the exhibitions. This then becomes the inspiration behind the work we do, be that dance, music, poetry or design.
Why is it important for young people to respond to contemporary art?
Moved by Art is trying to give young people a voice. Art should allow everybody to express their opinions and feelings, even if the subject matter is completely unfamiliar to them. And what's more challenging and unfamiliar than contemporary art? Experiencing new art forms introduces new ways of thinking and that's what exactly what we want young people to do.
What benefits are there of attending? How might these workshops help someone get ahead in a career in the arts?
Through Moved by Art you get the chance to meet a range of artists and professionals in the creative industry who have years of practice under their belts. Speaking with these artists, getting advice and learning from their experiences, whilst developing a critical eye, helps you develop your own style and an analytical mind. Working in such a range of art forms makes you think creatively, becoming a flexible and diverse practitioner too. These kinds of skills can be applied to just about any job, in the arts or otherwise.
Where will the work being produced go? Is the art produced in this workshop, as well as past ones, likely to be exhibited?
The work produced at The House of Kings and Queens workshop will be made into digital prints to be exhibited during Hull Print Fair. At the end of the year on 17 November we'll celebrate all the work made over the course of the year in a showcase at Humber Street Gallery. This will coincide with the reveal of photographic work this generation are making in response to the MAGNUM photography exhibition Portrait of a City which will be hosted by local photographer Ruby Deverell.
If you're aged 16-24, whether you've got experience in art, or you thought it was for someone else, sign up to a Moved by Art session. We dare ya – you don't know until you've tried.
The next Moved by Art session takes place Thu 17 Aug, 5pm – 8pm. If you'd like to be involved get in touch with info@humberstreetgallery.co.uk.
Words by Michelle Evans