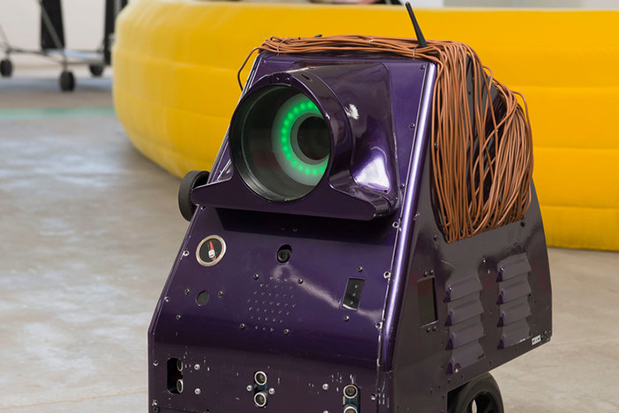 We caught up with artist Paul Granjon to talk artificial intelligence, playtime and robot dreams.
If you haven't been to the provocative, lively exhibition States of Play at Humber Street Gallery, then you may not be familiar with Combover Jo. A lovable robot that anyone can control, he's been capturing the hearts and minds of the gallery's visitors.
The Craft Council's States of Play invites us to rethink and reclaim play – it can influence and transform our understanding of the world around us, and Paul Granjon's Combover Jo does just that, asking us to address our expectations of robotics and the role they play in our lives.
From a control room tucked away in the corner of the gallery you can command Combover Jo, and have the contraption interact with others, through simple speech and basic movement. Paul's work shines a light on the limitations of robots and our own human and emotional responses to this machinery in a playful, comedic way.
FOR THOSE WHO HAVEN'T BEEN TO SEE STATES OF PLAY YET, TELL US A BIT ABOUT COMBOVER JO AND YOUR WORK.
Combover Jo is a sort of trickster robot, that drags its intelligence from humans. I hope that visitors playing with it have some fun chatting to it and impersonating a robot character. For those who are interested in how technology changes our lives, Combover Jo shows the limitations of robots, and highlights how our expectations about their capabilities are influenced by science-fiction, not 'science-fact'.
HOW DO YOU FEEL COMBOVER JO SITS ALONGSIDE THE OTHER PIECES IN THE EXHIBITION?
It's special among the other exhibits as it can move freely among the visitors. Combover Jo invites different sorts of play too. For example, children will dance and chat while adults get more enjoyment from playing tricks on their friends from the control room.
HOW COMPLEX OR DIFFICULT IS THE PROGRAMMING USED TO BRING COMBOVER JO TO 'LIFE'?
I had to learn new tricks and spent a fair amount of time programming the robot. For States Of Play it has a brand-new dream function and a much-improved speech input. There is still work to do before its next show in Bilbao next year.
WHAT KIND OF DREAMS DOES THE ROBOT HAVE?
I imagined what a robot would dream about and edited 10 short video poems, drawing mostly from found footage. The dreams show robotic sheep, but also different combinations of natural and artificial footage.
COMBOVER JO IS LOVED BY CHILDREN AND ADULTS ALIKE, HOW IMPORTANT DO YOU THINK THAT SENSE OF PLAY AND CURIOSITY IS?
I always try to give a humorous, accessible slant to my artworks, a gateway for people to enjoy and engage. I am glad to see people playing with Combover Jo and I hope that some of this play will influence how they view robots and how they relate to robots.
THE ROBOT PLAYS UPON OUR ABILITY TO RESPOND EMOTIONALLY TO OBJECTS WITHOUT SENTIENCE. WHAT DO YOU THINK ABOUT THIS? DOES THIS REVEAL ANYTHING ABOUT OUR OWN HUMANITY AND IMAGINATION?
There is a well-known psychological experiment (Experimental Study of Apparent Behavior – Fritz Heider and Marianne Simmel) where participants are shown a film in which geometrical shapes move on the screen. The participants are asked to interpret what they see. The experiment highlights how humans can attribute feelings to the simplest forms, and Combover Jo plays on this. Its motions, voice, silly hair and big round eye-like contraption are enough for people to project a personality and interact with it as a sort-of-alive creature.
YOUR WORK HAS LOOKED AT THE CO-EVOLUTION OF HUMANS AND MACHINES AND HOW HUMANS AND ROBOTS INTERACT. PEOPLE ARE ALWAYS VERY PLAYFUL WITH COMBOVER JO – IS THERE A DARKER SIDE TO OUR RELATIONSHIP WITH ROBOTS TOO?
I think we must be careful not to abandon too many things we as humans do, to machines. We must keep working with our brain and body. If an app or a robot can do some tasks faster and easier for us, it doesn't necessarily mean we should stop doing these things ourselves. Think of the lift, for example. It encourages people not to use their legs, but we know that our health will be better if we use the stairs – yet now it is an effort. The same goes with a paper map and its GPS navigation equivalent, 3D printing versus sculpture… the list goes on. In my view, the best way is a clever combination of machine and human.
IS THE ROBOT A MORE PLAYFUL PIECE OF WORK, OR REFLECTIVE OF SOMETHING MORE OMINOUS?
Combover Jo is existing proof that Terminator is not coming any time soon.
States of Play runs until Wed 27 Sep. You can also see work from Atelier NL; Glithero; Jasleen Kaur; Lawrence Epps; Matthew Plummer-Fernandez; Pascal Anson; mischer'traxler studio; Peter Marigold; Richard Slee; Soft Baroque; State of Play Games; Thorunn Arnadottir and Ting Tong Chang.
Words by Michelle Evans.