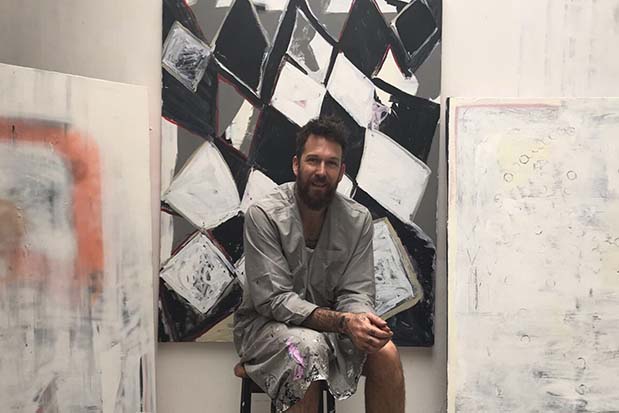 Artist Richie Culver tells us why the Costa del Wiv is Hull's miniature Monaco and Las Vegas.
If you've been down Whitefriargate recently, you may have noticed a series of colourful installations situated on eight shop windows. 
Costa del Wiv is part of a unique public art project called Windows of Whitefriargate that has been comissioned by Humber Street Gallery. Displaying the work of Hull-born artist Richie Culver. The installation proudly promotes holiday offers to Withernsea, showing a series of rival travel agencies, battling to offer the best deal to the seaside resort just 20 miles of Hull. 
The work also aims to shine a light on Withernsea, a place that Richie holds very close to his heart.
We caught up with Richie to find out what the installation means to him and how he hopes people will respond to the work. 
FOR PEOPLE WHO MAY BE NEW TO YOUR WORK, HOW WOULD YOU DESCRIBE YOUR ART?
Focusing on Withernsea was an easy choice. I felt this was a great opportunity to do something based on Withernsea, where I was brought up. It was kind of a once-in-a-lifetime thing I guess – to be able to do something on Withernsea in Hull.  
Places like Withernsea easily get forgotten, so I felt it was my duty to do something for the people and the place I still call home. With regard to creating the work, I wanted to use each shop window as a futuristic/obscure/distorted vibe of how Withernsea may well be in 70 years. Future travel agents if you like.
WOULD YOU SAY GROWING UP IN WITHERNSEA INSPIRED YOU TO BECOME AN ARTIST? DO YOU STILL SEE IT AS HOME?
Subconsciously it must have. It was a great place to be brought up and also a great place to leave when the time was right.
I would still say Withernsea has a very special feel. A David Lynch kind of feel, a beautifully forgotten feel.
HOW DO YOU FEEL WITHERNSEA HAS CHANGED OVER THE YEARS?
Growing up, it was very busy every Saturday and Sunday with its market. It was somewhere for people in surrounding areas to come on a weekend. I'm guessing this will have affected businesses and people's livelihood in Withernsea.
If they brought back the market somewhere in town, I'm sure it would improve again. It is after all a seaside town, which survives mainly on tourism in the summer. Towns like Withernsea need things like markets to carry them through the winter months.
THERE'S AN ELEMENT OF HUMOUR BEHIND THE WORK – WHAT WAS THE MOST IMPORTANT PART OF CREATING THIS PIECE FOR YOU?
Yeah, of course. It's kind of a piece for Hull locals and East Riding locals only. No one else in the UK would really get it or know where Withernsea is. 
It is different. But, I felt this may have been the only chance I get to do something for my hometown in the city I was born. I guess it's a one-off. 
Until 2060 comes around and people look back and say, "Wow! He was right! Withernsea is one of the top destinations in the world".
HOW DO YOU HOPE PEOPLE WILL RESPOND TO THE PIECE?
I hope they like it I guess – that or go visit. Personally, I'd go visit. Even without the market and train station. Withernsea has a vibe I've never felt before in a place. I've been lucky enough to have been all over the world through my career, but I still say Withernsea has a very special feel. A David Lynch kind of feel, a beautifully forgotten feel.  
You can imagine a Netflix series being filmed there. To me and the locals, it's totally normal, but many people I've brought home to visit who all lived in major cities around the globe think Withernsea has a mysterious beauty to it. So yeah, go visit!
WHAT DO YOU FEEL HULL BEING THE CITY OF CULTURE HAS DONE FOR THE CITY? 
Where do I start with this? It has done so much. Maybe I'm looking at it differently as I'm an artist living in London who was born in Hull, so from that angle, everyone in my industry is talking about it – something I thought I'd never see. As a city, it's hard to explain really – everyone loves an underdog story. 
For me, Hull is kind of like that in creative terms – not to underestimate the talent that has gone on to great success from the city – usually people get a sniff of success or give in to the idea that London is where it's at, I feel that train of thought may be over. 
I just can't wait to see how it continues to grow in the next few years. Kids getting inspired to make art, locals taking the time to go view art who normally wouldn't.  
The world couldn't survive without art – visual art, music, any kind of art. 
The installation Costa Del Wiv is in Whitefriargate, city centre until Friday 1 September. You can keep up to date with Richie on Instagram: @richieculver 
Words by Eleanor Churchill