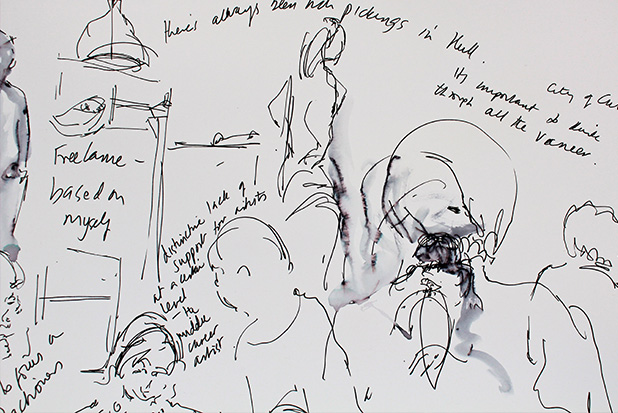 What to expect from this weekend's artist-focused activities at Humber Street Gallery.
Nourish, an ongoing series of curated conversations, comes to Hull this weekend. The programme of discussion and activity explores sustainability and how this can inform what we do within the art world.
Yorkshire & Humber Visual Art Network, a community of visual artists and art professionals has joined forces with Hull's own artist collective Hack & Host to generate discussion around the themes of place, cash and materials in relation to sustainability.
In the past Nourish has covered ideas of progression and retention, looking at how to keep art graduates in the region. It's also explored advocacy & breaking boundaries, concentrating on how mid-career artists can extend their reach, too. These conversations have proved instrumental in connecting people locally and across the region, and have helped reshape YVAN's ideas and strategy.
This weekend's event will continue all of this, and you could be a part of it. Join New York-based artist, activist and author Gregory Sholette, who will be in conversation this weekend, addressing the question 'What are the materials of artist activism?' He'll draw on arguments set out in his own work Dark Matter: Art and Politics in the Age of Enterprise Culture (2010) and Resistance and Delirium: Activist Art and the Crisis of Capitalism (2016).
Sholette's strong belief in the power of the imagination and creativity of the non-commercial sector of the art world, separate from the prestige of the elite art world, will guide the conversation. Another driving force will be the relationship between politics and art today, including art's deep involvement in capitalism – these topics, more urgent than ever, are all up for debate.
There will be creative activities to get stuck into, food and drink to enjoy and plenty of time to engage in lively debate. Specific sessions looking at 'place', 'cash' and 'materials' will explore more focused ideas of sustainability, too.
Place will focus on the role of artists in shaping spaces and agendas, asking how artists, art and culture can play an active role and add value to redevelopment initiatives (what better place to have that discussion than Hull's Fruit Market?) This session will also consider whether artists can influence how value is understood.
Cash takes a look at the support structures, peer networks, spaces and funding available to early career and emerging artists, and ask what is needed to encourage and nurture sustainable practice, artist-led spaces and activity. Another crucial focus will be to explore how artists value themselves in this economical and political climate.
Materials will open the debate on what visual arts materials really are and what can affect access to them, always striving to improve.
Nourish 17 takes place 30 Sep – 1 Oct. Book your space now.